ROTARY CLUB of WESTLAND
Chartered 10/20/1966
Devin Adams, President
The Rotary Club of Westland Michigan
meets Thursdays of each week at
Joy Manor
28999 Joy Road, Westland
Meetings begin at 12:15 pm
We welcome members of the community to join us for lunch on Thursdays to get more information about becoming a member. If you would like us to send information about the Westland Rotary Club or Rotary in general, please contact us through our website or call
Margaret Harlow, 734-634-3048
Guests are always welcome, as are volunteers to speak at our weekly meetings
The Rotary motto "Service Above Self" conveys the humanitarian spirit of the organization's more than 1.2 million members world wide. Strong fellowship among Rotarians and meaningful community and international service projects characterize Rotary worldwide.
To contact us e-mail westlandrotary@gmail.com
New Rotary President 2018-19
Past President Maria Mitter with ADG Jerry Richardson and incoming President Devin Adams
Dr Amanda Apfelblat named Honorary Rotarian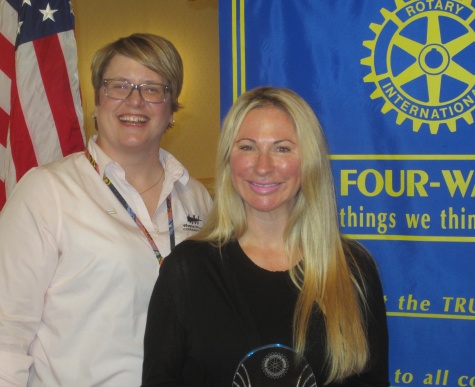 Club President Maria Mitter (left) named Dr Amanda Aplelblat as an Honorary member of the Westland Club
Westland Rotary
donated $1500 to the teachers at
Schweitzer Elementary to help with the purchase of needed class room supplies.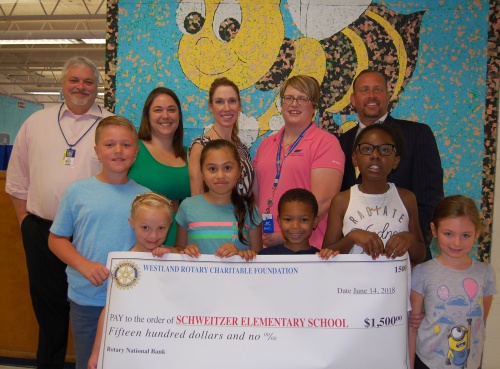 Rotarians Paul Motz (left rear), Maria Mitter and Tim Gilbert (right rear) with teachers and students
2018 Scholarship Winners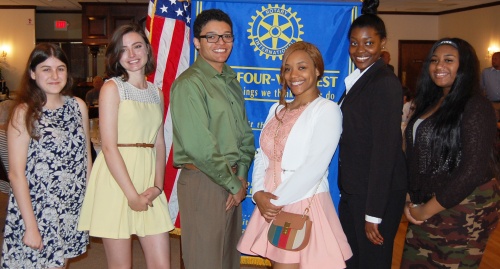 Resource Fair 2018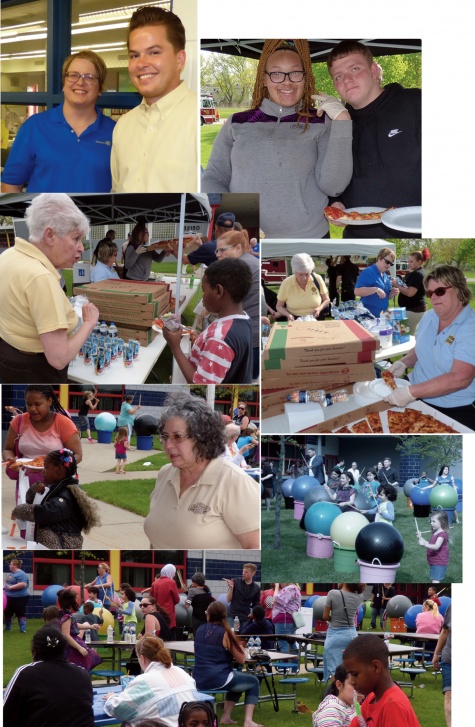 Another successful Resource Fair at the Jefferson Barnes Community Vitality Center in Westland. Photos by PDG Jim Karolyi
Rotary Members wearing purple for
World Polio Day!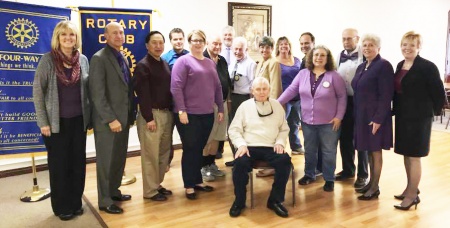 Annual DG Club Visit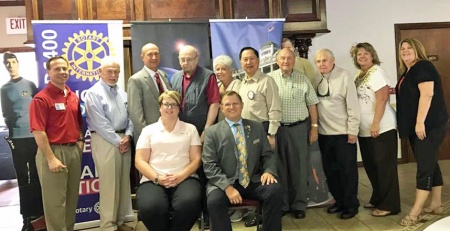 Westland Rotary Members with DG Rick Caron, September 2017
Officer Installation and Awards
2017-18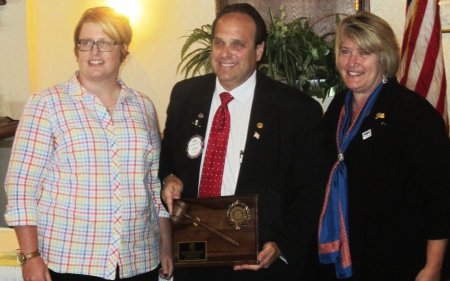 2017-18 President Maria Mitter with 2016-17 President Don Oesterwind and DG Sue Goldsen

Paul Harris Awards presented by DG Sue Goldsen
2017 Scholarships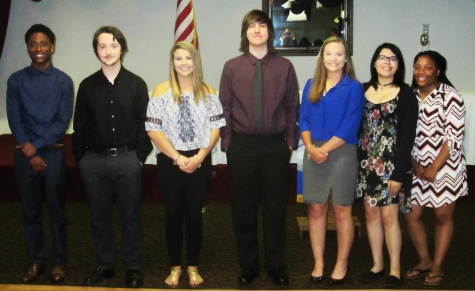 L-R
Rashad Kemp, Michael Lilley, Miranda Chahine,Eric Skiver, Loren Vail, Sarah Marshall, Maleena Johnson.
Chahine, Marshall and Lilley each received a $2000
Rotary Scholarship
Kemp, Johnson and Skiver each received a $2000
James E. North Memorial Scholarship
Loren Vail received the $2000 Arlene Douglass Scholarship.
James E. North Memorial Scholars
Rashad Kemp, Eric Skiver and Maleena Johnson with
C. Douglas North, Tom North and Ron Corby
North Brothers Ford
Rotary and Warm Hearts volunteers at the recent Warm Hearts baby shower held at the Salvation Army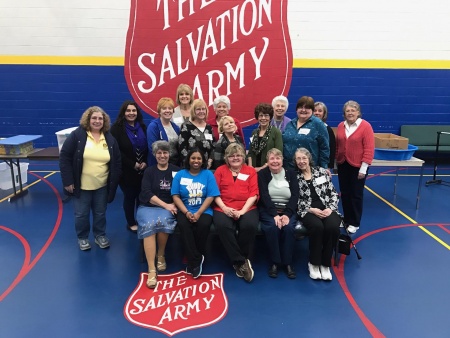 Thanks to our sponsors and everyone that attended the Magic of Giving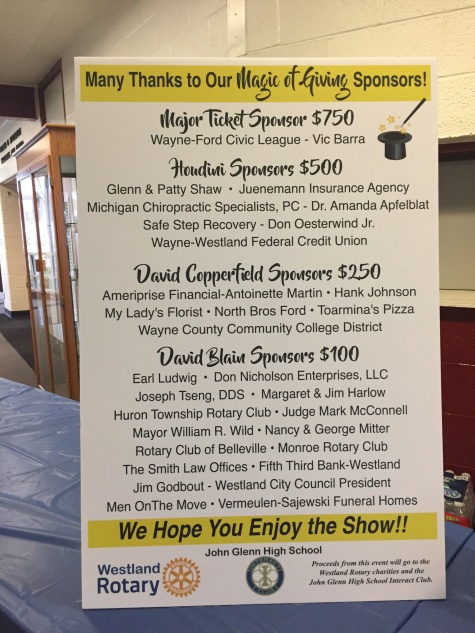 One of the members of the Ann Arbor Magic Club doing tricks in the lobby
before the show began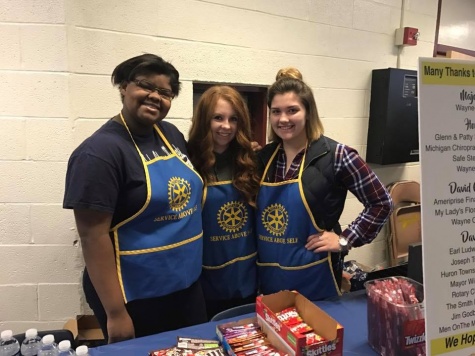 Our Rotary Interact Club members from John Glenn High School worked the consessions to earn money for their club.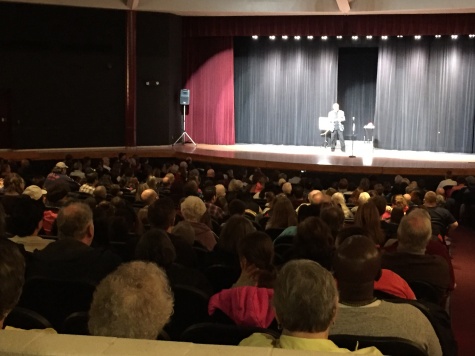 Over 600 attended the Magic of Giving
Dr. Joe Tseng Presented with Paul Harris Award
Dr. Joe Tseng was presented with his level four Paul Harris award by Foundation Chair Jeff Juenemann (left) and Club President Don Oesterwind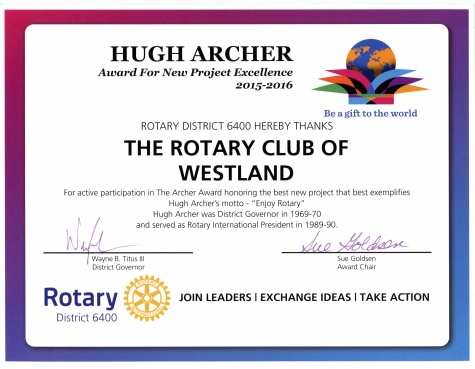 RYLA 2016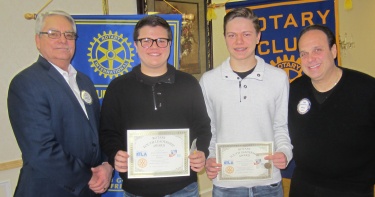 John Albrecht with Kyle and Korey Littlefield and Club President Don Oesterwind.
The twins attend John Glenn and are members of the Interact Club.
December 2016
Winter hats and boots collected at the 2016 Taste Fest
for the
Stottemyer Pre School
100 Hats and Gloves , 16 pairs of boots and various other items.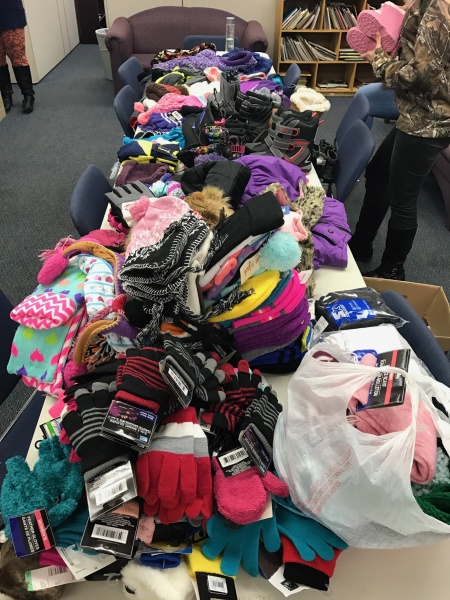 District Govenor Visit September 8th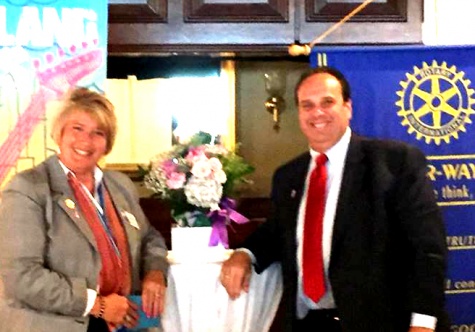 DG Sue Goldsen and club President Don Oesterwind
Rotarians enjoying the day
at Joe Tseng's Lake front cottage
Rotary Member Margaret Harlow
received an award from
Mayor William R. Wild for her 18 years
of service on the DDA Board.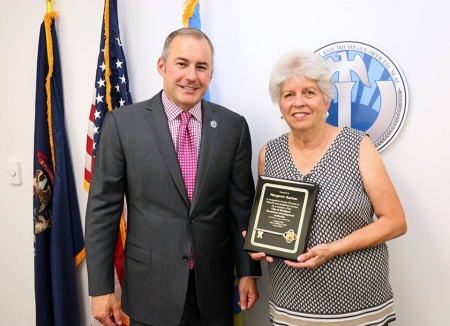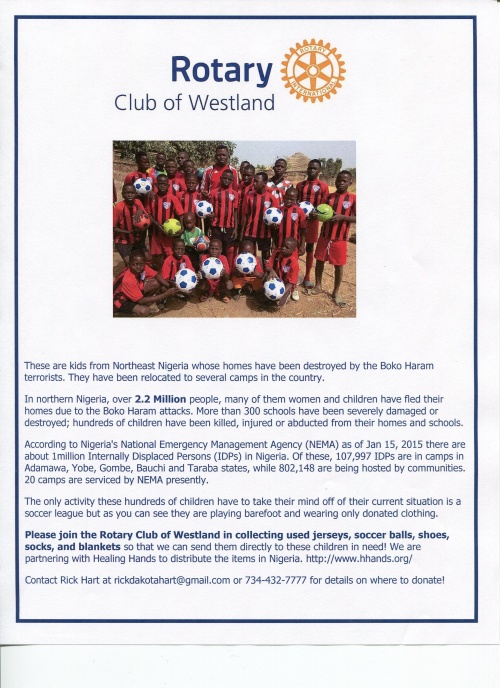 Rotary Scholarship Winners 2016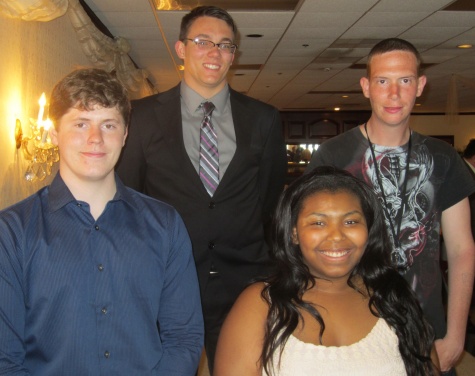 50 years for the City of Westland
and the
Rotary Club of Westland
The charter from Rotary International for the Rotary Club of Westland was discovered in the time capsule that was buried in 1966 by the then new city of Westland.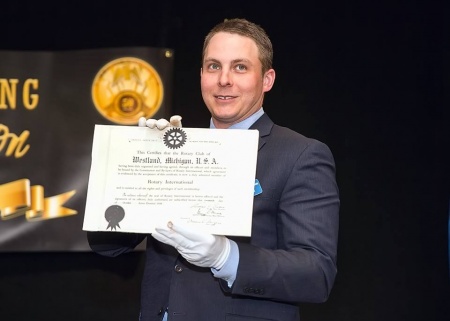 50 years of service to the Westland Community 1966-2016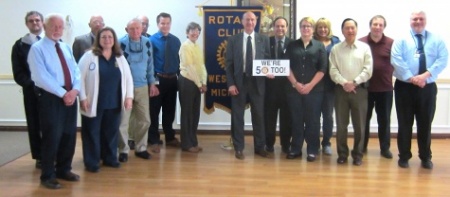 RYLA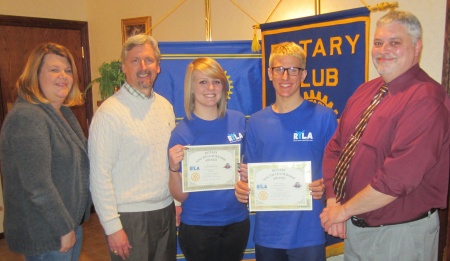 Westland John Glenn Students that attended RYLA with (L-R) Kristi Nimsgern, Secretary, Jim Thomas John Glenn counselor, Alexis Brewster, Cory Routen and club President Paul Motz
Our Newest Member January 21, 2016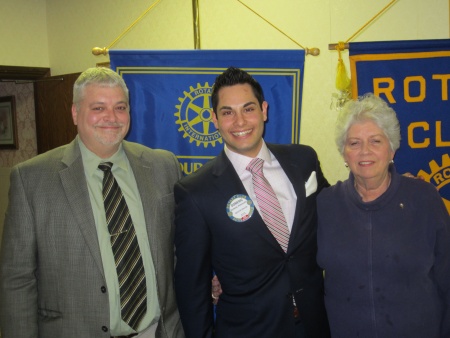 Domenic Policicchi, center, our newest and youngest member with President Paul Motz and Margaret Harlow his sponsor.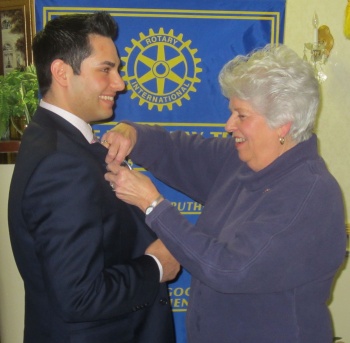 Domenic being pinned by his sponsor Margaret Harlow
Rotary Club of Westland
October 15. 2015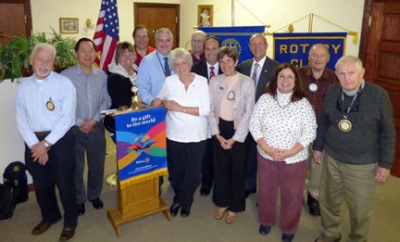 ---