Westland Rotary Club
Announces
A new monthly Program
Join Club members on
September 28, 2017 at
The Palmer House Bar & Grill
for our first monthly
"Meet & Greet"
Find out what Rotary is and what our Westland Club does for the community.
Annual DG Club Visit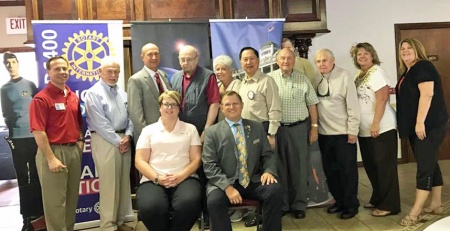 Westland Rotary Members with DG Rick Caron, September 2017
Westland Rotary Club has sent a donation of $1000 to Shelter Box

WWW.SHELTERBOXUSA.ORG
On the anniversary of Hurricane Katrina, and in response to the most destructive U.S. storm since, ShelterBox USA begins to position aid in Texas and launches a designated fund in support: the Hurricane Harvey Relief Fund. 100% of all donations received will support all associated deployment costs with the ShelterBox response to Harvey.
Should ShelterBox USA raise funds in excess of what's needed to respond to this particular crisis, the funds will be allocated to our 'Deployment Essentials' fund, which provides support for all costs associated with ShelterBox worldwide deployments, including but not limited to: lifesaving equipment, response teams, transportation and collaboration with local or international partners.
Donors, whether they are individuals or clubs, may request to designate their funds specifically to our Hurricane Harvey Relief Fund. Donors can select "Harvey" designation from the drop down menu on the online donation page, or note this on the memo line, if they are submitting a check.
As a quick update, two Texas-based Rotarians and ShelterBox Response Team volunteers are on the ground with the ShelterBox USA President to coordinate assistance while Harvey continues to cause massive flooding.
What our team is finding is that given the level of flooding encountered, our soft sided tents called midi tents offer a more viable solution at this time than our ShelterKits or Standard Relief Tents and they are being considered for a "shelter-in-shelter" system that we've previously used in similar situations, such as the tsunami in Japan.
These tents within an evacuation center would offer families a private space to help preserve dignity, security, and aid in the recovery process, particularly where extended stays are likely. ShelterBox is going to stage these tents, along with school kits and blankets in a Dallas warehouse as it communicates with the Federal Emergency Management Agency, other NGOs and state agencies to determine urgent shelter and aid needs in the hurricane-devastated region.
Charity Navigator has added ShelterBox to their list of recommended charities for Harvey-related response. The list features highly-rated organizations responding in the aftermath of this storm and providing assistance to the people and communities affected by it, and we are proud to be included. ShelterBox has received highest rating of 4 stars. To view the list, click HERE
Key Facts About the Situation in Texas
This is an unprecedented natural disaster, among the worst in USA history, with levels of damage expected to be near those caused by Hurricane Katrina.
30,000 people are already displaced.
Houston, the fourth-largest city in the United States, has seen widespread destruction and devastation.
A year's worth of rainfall is anticipated over the next couple of days.
The impact of Hurricane Harvey means families are being evacuated into collective centres. This is anticipated to continue over next few days and to spread further in Texas and in Louisiana.
ShelterBox is also currently active in Syria, Iraq, Cameroon, Niger, Colombia, Somaliland and Nepal. ShelterBox relies on donations to do the disaster relief work around the world and here in the US. For up to date information, go to ShelterBoxUSA.org/harvey
Please let me know if you have any questions or need additional resources.
Thank you for your support!
Yours in Rotary,
Sarah Robinson
Member, Rotary Club of Albuquerque Rio Grande
Officer Installation and Awards
2017-18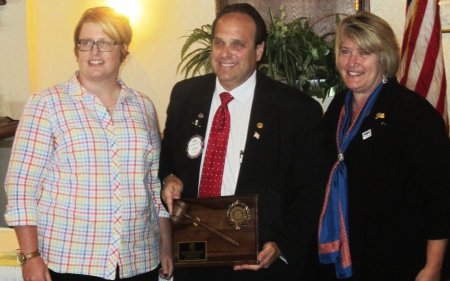 2017-18 President Maria Mitter with 2016-17 President Don Oesterwind and DG Sue Goldsen

Paul Harris Awards presented by DG Sue Goldsen
2017 Scholarships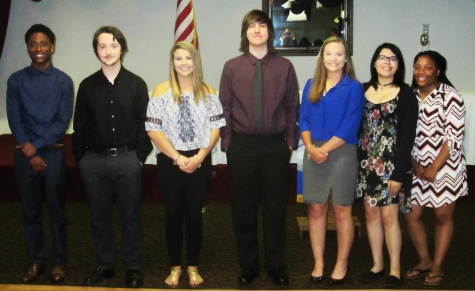 L-R
Rashad Kemp, Michael Lilley, Miranda Chahine,Eric Skiver, Loren Vail, Sarah Marshall, Maleena Johnson.
Chahine, Marshall and Lilley each received a $2000
Rotary Scholarship
Kemp, Johnson and Skiver each received a $2000
James E. North Memorial Scholarship
Loren Vail received the $2000 Arlene Douglass Scholarship.
James E. North Memorial Scholars
Rashad Kemp, Eric Skiver and Maleena Johnson with
C. Douglas North, Tom North and Ron Corby
North Brothers Ford
Rotary and Warm Hearts volunteers at the recent Warm Hearts baby shower held at the Salvation Army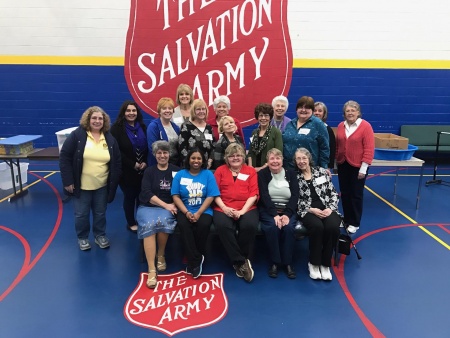 Thanks to our sponsors and everyone that attended the Magic of Giving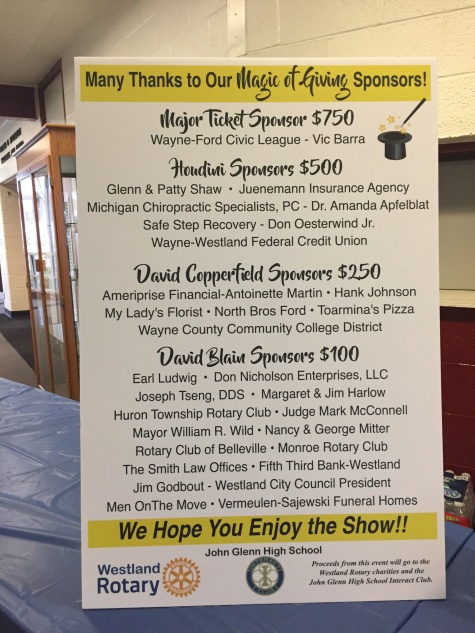 One of the members of the Ann Arbor Magic Club doing tricks in the lobby
before the show began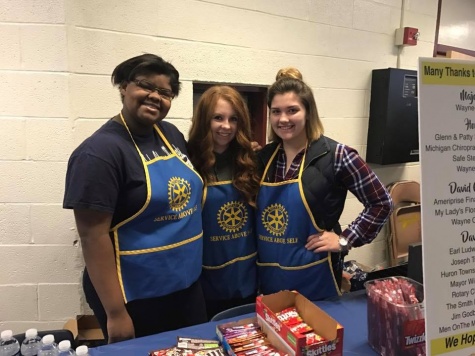 Our Rotary Interact Club members from John Glenn High School worked the consessions to earn money for their club.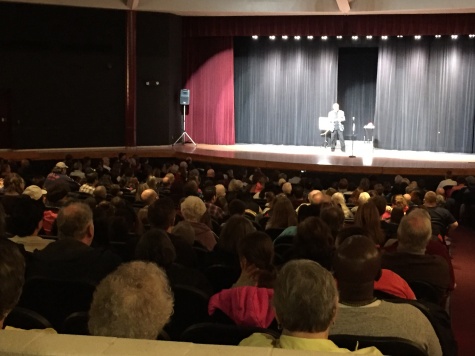 Over 600 attended the Magic of Giving
Dr. Joe Tseng Presented with Paul Harris Award
Dr. Joe Tseng was presented with his level four Paul Harris award by Foundation Chair Jeff Juenemann (left) and Club President Don Oesterwind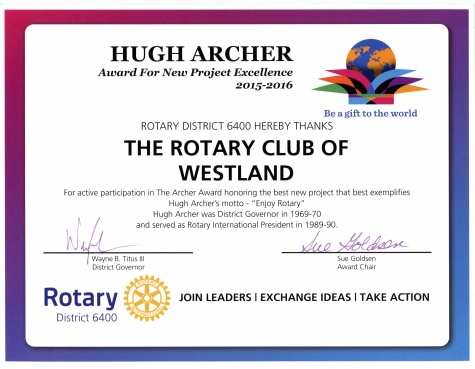 RYLA 2016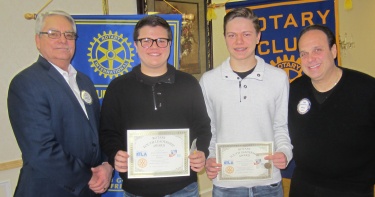 John Albrecht with Kyle and Korey Littlefield and Club President Don Oesterwind.
The twins attend John Glenn and are members of the Interact Club.
December 2016
Winter hats and boots collected at the 2016 Taste Fest
for the
Stottemyer Pre School
100 Hats and Gloves , 16 pairs of boots and various other items.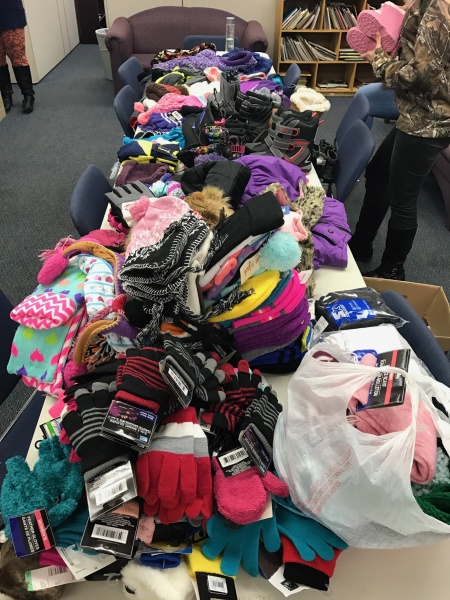 District Govenor Visit September 8th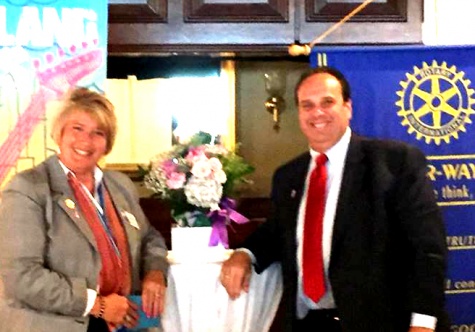 DG Sue Goldsen and club President Don Oesterwind
Rotarians enjoying the day
at Joe Tseng's Lake front cottage
Rotary Member Margaret Harlow
received an award from
Mayor William R. Wild for her 18 years
of service on the DDA Board.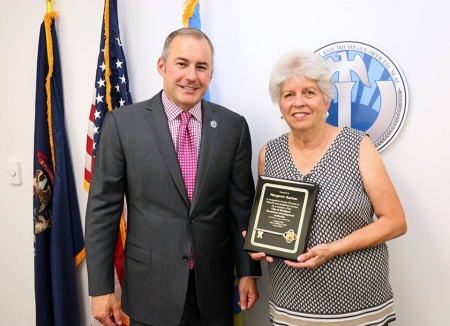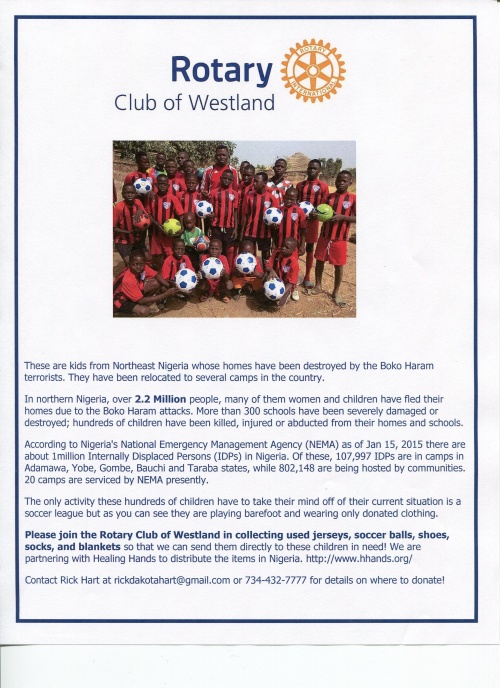 Rotary Scholarship Winners 2016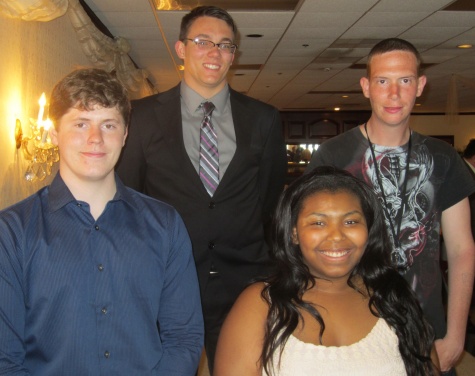 50 years for the City of Westland
and the
Rotary Club of Westland
The charter from Rotary International for the Rotary Club of Westland was discovered in the time capsule that was buried in 1966 by the then new city of Westland.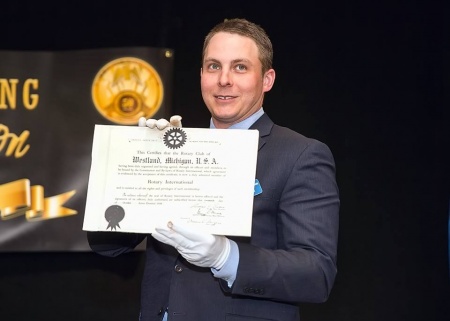 50 years of service to the Westland Community 1966-2016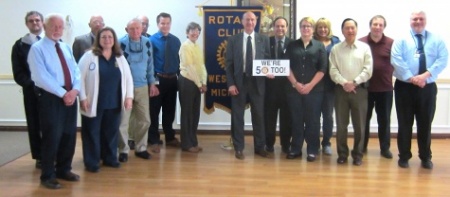 RYLA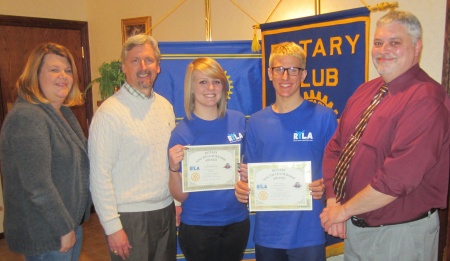 Westland John Glenn Students that attended RYLA with (L-R) Kristi Nimsgern, Secretary, Jim Thomas John Glenn counselor, Alexis Brewster, Cory Routen and club President Paul Motz
Our Newest Member January 21, 2016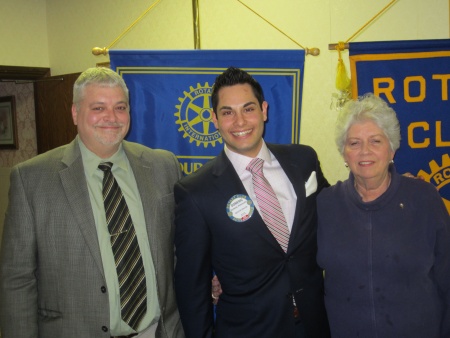 Domenic Policicchi, center, our newest and youngest member with President Paul Motz and Margaret Harlow his sponsor.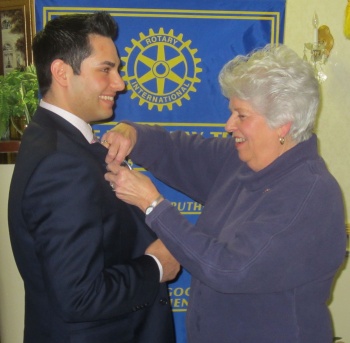 Domenic being pinned by his sponsor Margaret Harlow
Rotary Club of Westland
October 15. 2015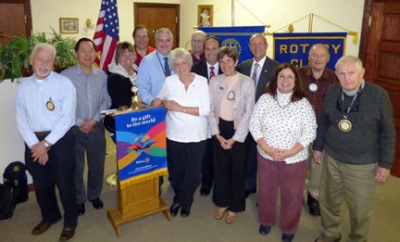 ---
ROTARY CLUB of WESTLAND
Chartered 10/20/1966
Don Oesterwind, Jr, President
The Rotary Club of Westland Michigan
meets Thursdays of each week at
Joy Manor
28999 Joy Road, Westland
Meetings begin at 12:15 pm
We welcome members of the community to join us for lunch on Thursdays to get more information about becoming a member. If you would like us to send information about the Westland Rotary Club or Rotary in general, please contact us through our website or call
Jeff Juenemann at 734.261.5010.
Guests are always welcome, as are volunteers to speak at our weekly meetings
The Rotary motto "Service Above Self" conveys the humanitarian spirit of the organization's more than 1.2 million members world wide. Strong fellowship among Rotarians and meaningful community and international service projects characterize Rotary worldwide.
To contact us e-mail westlandrotary@gmail.com